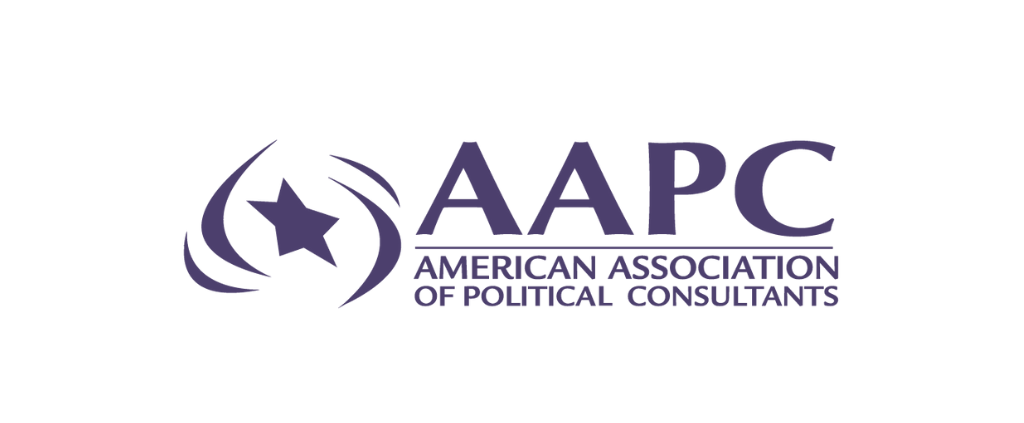 AAPC Announces 2021 Class of 40 Under 40 Award Winners
Contact:
Alana Joyce
Executive Director
703-245-8021
[email protected]
FOR IMMEDIATE RELEASE
October 19, 2021
AAPC ANNOUNCES 2021 CLASS OF 40 UNDER 40 AWARD WINNERS
Las Vegas, NV (October 19, 2021) —The American Association of Political Consultants (AAPC)—America's only bipartisan association of political professionals— today announced the winners of the
2021 40 Under 40 Awards
program recognizing the best and brightest young professionals working in the United States. Selected from more than 200 nominations, the winners were recognized at an awards ceremony during the 2021 Pollie Conference in Las Vegas, Nevada on Tuesday, October 19, 2021.
"In an unprecedented campaign cycle due to the global pandemic, this year's 40 Under 40 class highlights the rising influencers, entrepreneurs, creators and strategists that are shaping the future of political consulting," said AAPC President Becki Donatelli. "We're excited to recognize and celebrate them early on in their careers, and we look forward to seeing the incredible work they put forth in the future to further our industry."
"PayClearly takes great pride and is truly honored to be a part of this celebration of emerging political leaders," said John Jamieson, SVP of Strategic Sales & Partners at PayClearly. "We wish all winners a huge congratulations and look forward to your sustained successes. You are all a testimony that hard work, a relentless conviction and perseverance make that unassailable difference."
The AAPC is dedicated to fostering the next generation of political professionals and is proud to recognize leaders and innovators in the political business community (including media, advertising, polling and public affairs) who are making a mark in their organization and their profession.
Winners of the AAPC 2021 40 Under 40 Awards
Delilah Agho-Otoghile, Harris County Democratic Party
Luis Alcauter, Solidarity Strategies
Rania Batrice, Batrice & Associates
Michael Charles, Upper Left Strategies
Shasti Conrad, Shasti Conrad Consulting
Carly Cooperman, Schoen Cooperman Research
Emily Kirby Goodman, EMC Research
Anatole Jenkins, Biden for President
Kendall Klingler, Fiona Hutton & Associates
Rosa Mendoza, Global Strategy Group
Vanessa Millán, Con Cultura, LLC
Jill Nelson Golub, Whitehurst/Mosher Campaign Strategy and Media
Charly Norton, Bergmann Zwerdling Direct
Jovita Pardo, GNI Strategies
Jamie Patton, Uplift Campaigns
Christina Sheffey, Bully Pulpit Interactive
Brian Stryker, ALG Research
Mary-Patricia Wray, Top Drawer Strategies
Carolyn Xu, Media Fortitude Partners
Alexander Avetoom, Para Bellum Public Affairs
Titus Bond, Remington Research Group
Tyler Foote, Creative Direct
Daria Grastara, National Republican Senatorial Committee
Chad Heywood, Camelback Strategy Group
Conor Maguire, WPA Intelligence
Tom Newhouse, Convergence Media
Jonathan Ratliff, Palm Strategic Group
Brian Reisinger, Platform Communications
David Seawright, Deep Root Analytics
Scott Stone, Strategic Impact
Austin Stukins, Push Digital
Joe Williams, Vanguard Field Strategies
Benjamin Yoho, The Strategy Group Company
###
About the 2021 AAPC Pollie Conference
As the premier industry event, the 2021 AAPC Pollie Conference is held in Las Vegas, Nevada from October 19 – 21, 2021 and brings the leading political professionals in the world together to network and hear from top technology innovators, pollsters, pundits and service providers. The Conference features cutting-edge programming on key industry trends, designed to empower attendees to leverage the latest techniques in campaign strategy and management. The Conference is widely recognized as the must-attend event for political consultants, media buyers, public affairs specialists, suppliers, industry leaders and journalists. For details, visit
www.theaapc.org
.
About AAPC
Founded in 1969, the AAPC is a multi-partisan organization of political and public affairs professionals dedicated to improving democracy. The AAPC has more than 1,600 members hailing from all corners of the globe. The Board of Directors is comprised of 32 members, evenly divided between Republicans and Democrats. It is the largest association of political and public affairs professionals in the world. For more information, see www.theaapc.org.
https://theaapc.org/wp-content/uploads/2023/04/Untitled-design-39.png
524
1024
Kelly Zahour
https://theaapc.org/wp-content/uploads/2021/09/Layer-57.png
Kelly Zahour
2023-05-26 15:30:21
2023-05-26 15:30:21
AAPC Announces 2021 Class of 40 Under 40 Award Winners