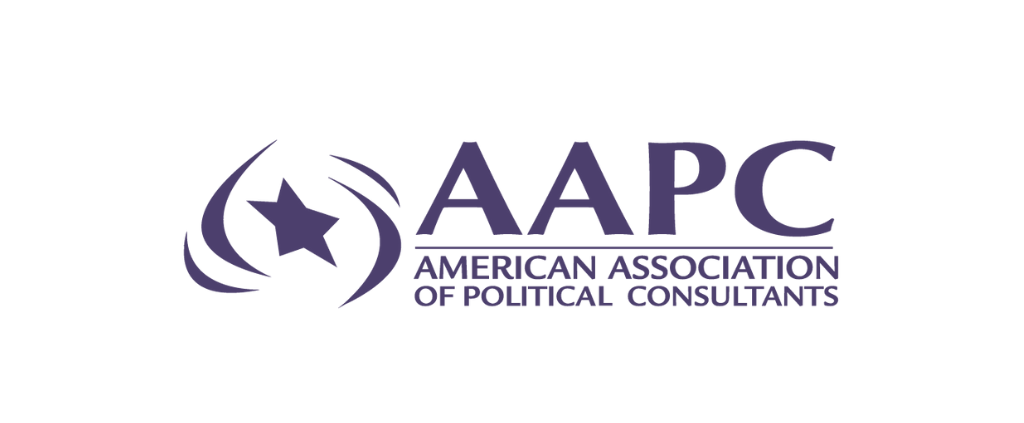 AAPC Announces 2022 Class of 40 Under 40 Award Winners
Contact:
Alana Joyce
Executive Director
703-245-8021
[email protected]
FOR IMMEDIATE RELEASE
May 17, 2022
AAPC ANNOUNCES 2022 CLASS OF 40 UNDER 40 AWARD WINNERS
San Juan, Puerto Rico (May 17, 2022) —The American Association of Political Consultants (AAPC)—America's only bipartisan association of political professionals— today announced the winners of the
2022 40 Under 40 Awards
program recognizing the best and brightest young professionals working in the United States. Selected from more than 200 nominations, the winners were recognized at an awards ceremony during the 2022 Pollie Awards & Conference in San Juan, Puerto Rico on Tuesday, May 17, 2022.
"The judging process was especially difficult this year, with such high volume of outstanding young professionals nominated. We are encouraged to see so many high achieving young politicos rise up within the industry, and salute this year's winners," said AAPC President Becki Donatelli. "We have no doubt that the 2022 Class of 40 Under 40 will continue to even greater successes as political consultants and help educate and inspire other rising stars in the industry, "added AAPC Vice President Larry Huynh.
"We are thrilled to congratulate this year's winners of the 40 Under 40 Awards. As a leader in the political text message marketing industry, it's our pleasure to watch these individuals succeed in their profession and to contribute in a small way in their digital marketing journey," added Kevin Fitzgerald, Tatango CEO.
The AAPC is dedicated to fostering the next generation of political professionals and is proud to recognize leaders and innovators in the political business community (including media, advertising, polling and public affairs) who are making a mark in their organization and their profession.
Winners of the AAPC 2022 40 Under 40 Awards
Ryan Berni, Berni Consulting

Mollie Binotto, Sena Kozar Strategies

Kati Bumgardner, Counterpoint Messaging

Marshall Cohen, Democratic Governors Association (DGA)

Seferiana Day, Upper Left Strategies

Katelynd Duncan, KJD Strategies

Zandria Haines, SBDigital

Joshua Handelman, Democratic Legislative Campaign Committee

Danny Kazin, American Bridge

Adam Kirsch, Change Research

Angela Kuefler, Global Strategy Group

Byron LaMasters, InFocus Campaigns

Alesa Mackool, ACM Strategies

Henri Makembe, Do Big Things

Ishanee Parikh, Future Forward USA Action

Marilyn Báez Rodríguez, 303 Digital

Tess Troha-Thompson, New Blue Interactive

Bryan Boo Yuen, Putnam Partners
Michael McCollum Adams, TAG Strategies

Sarah Clamp, Prime Media Partners

Chazz Clevinger, OneClickPolitics

Lindsay Shuba Donnelly, TLC Political

Kaeley Gemmill, Targeted Victory

Amanda Iovino, WPA Intelligence

Matt Kenney, Camelback Strategy Group

Caeli Mahon, Targeted Victory

Katie Martin, Big Dog Strategies

George Nassar, Public Opinion Strategies

Sean Philbin, Smart Media Group

Christiana Purves, Push Digital & Laurens Group

Martin Rini, Targeted Victory

Edith Jorge-Tuñon, Republican State Leadership Committee (RSLC)

Phil Vangelakos, Push Digital, LLC

Adam Wise, National Media
###
About the 2022 AAPC Pollie Conference
As the premier industry event, the 2022 Pollie Awards & Conference is held in San Juan, Puerto Rico from May 17-19, 2022 and brings the leading political professionals in the world together to network and hear from top technology innovators, pollsters, pundits and service providers. The Conference features cutting-edge programming on key industry trends, designed to empower attendees to leverage the latest techniques in campaign strategy and management. The Conference is widely recognized as the must-attend event for political consultants, media buyers, public affairs specialists, suppliers, industry leaders and journalists. For details, visit
www.theaapc.org
.
Founded in 1969, the AAPC is a multi-partisan organization of political and public affairs professionals dedicated to improving democracy. The AAPC has over 1,400 members hailing from all corners of the globe. It is the largest association of political and public affairs professionals in the world. For more information, see
www.theaapc.org
.
Since 2007, Tatango has provided easy-to-use SMS marketing software and industry expertise to political and nonprofit organizations and causes looking to achieve their fundraising goals. Tatango has become a market leader powering SMS and MMS campaigns designed to drive fundraising results. With billions of messages sent, Tatango's marketing software has been time-tested to deliver positive fundraising outcomes.
https://theaapc.org/wp-content/uploads/2023/04/Untitled-design-39.png
524
1024
Kelly Zahour
https://theaapc.org/wp-content/uploads/2021/09/Layer-57.png
Kelly Zahour
2023-05-26 14:38:00
2023-05-26 14:38:00
AAPC Announces 2022 Class of 40 Under 40 Award Winners