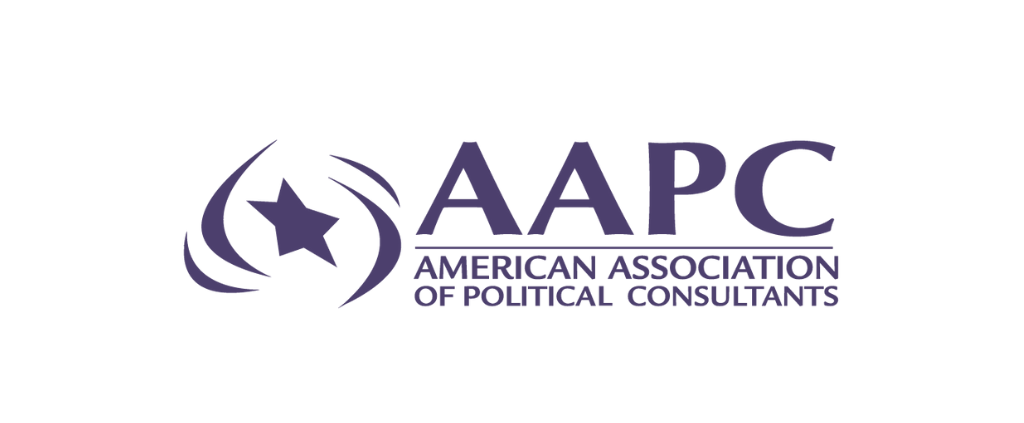 AAPC Announces 2023 Class of 40 Under 40 Award Winners
Contact:
Alana Joyce
Executive Director
703-245-8021
[email protected]
FOR IMMEDIATE RELEASE
April 18, 2023
AAPC ANNOUNCES 2023 CLASS OF 40 UNDER 40 AWARD WINNERS
La Quinta, California (April 18, 2023) —The American Association of Political
Consultants (AAPC), America's only bipartisan association of political professionals, announced today the winners of the 2023 40 Under 40 Awards program recognizing the best and brightest young professionals working in the United States. Selected from more than 250 nominations, the winners were recognized at an awards ceremony during the 2023 Pollie Awards and Conference in Palm Springs, California on Tuesday, April 18, 2023.
"We are elated to welcome a new class of gifted political consultants who will continue to make an impact in our industry," said AAPC President Becki Donatelli. "As AAPC continues to support young professionals to grow within the industry, we look forward to their contributions both now and in the future," added AAPC Vice President Larry Huynh.
"Ampersand and its owner companies, would like to offer congratulations to the 2023 class of 40 Under 40 award winners," added Tim Kay, Vice President of Political Strategy.
The AAPC is dedicated to fostering the next generation of political professionals and is proud to recognize leaders and innovators in the political business community (including media, advertising, polling, and public affairs) who are making a mark in their organization and their profession.
La Quinta, California (April 20, 2023) —The American Association of Political Consultants (AAPC), America's only bipartisan association of political professionals, announced today the recipients of the AAPC Campaign Excellence Awards for exceptional work during the 2022 cycle. These awards were presented at a special ceremony in conjunction with the annual AAPC Pollie Awards and Conference near Palm Springs, California.
The Campaign Excellence Awards are a longstanding tradition of the AAPC and recognize those individuals who have significantly contributed to the success of a candidate or public affairs campaign and whose conduct has been consistent with the Professional Code of Ethics of the AAPC.
"We were delighted to provide recognition to the outstanding work in political consulting in 2022," said AAPC President Becki Donatelli. "The 2023 Campaign Excellence Award winners have set a high bar for recognition in future years," added AAPC Vice President Larry Huynh.
Winners of the AAPC 2023 40 Under 40 Awards
Democratic Winners
Allyson Marcus, The Hub Project

Brendan McPhillips, Hilltop Public Soultions

Brett "Coop" Cooper, SWAY

Cassi Peters, Democratic Legislative Campaign Committee

David Bergstein, Democratic Senatorial Campaign Committee

Ilana Kaplan, SWDC Organizing Group

Jenna Fullmer, Blue Compass Strategies

John Padua, Trilogy Interactive

Lindsay Vermeyen, Breakthrough

Megan Jacobs, League of Conservation Voters Campaigns

Morgan Miller, Left Coast Strategies LLC

Pili Tobar, Fireside Campaigns

Ryan Irvin, Change Media Group

Samantha Greene, Sena Kozar Strategies

Shannon-Janean Currie, Benenson Strategy Group

Terrance Woodbury, HIT Strategies

Tommy McDonald, The Win Company

Trip Yang, Trip Yang Strategies
Adam Scheidler, TAG Strategies

Ashleigh Pisarcik, Ivory Political Strategy

Ben Mitchell, Jamestown Associates

Bobby Saparow, Kemp for Governor

Brendon DelToro, Guidant Polling and Strategy

Domenic Re, Congressional Leadership Fund

Jonathan Duke, Deep Root Analytics

Jordan Root, Texans for Greg Abbott

Nicholas Maddux, Axiom Strategies

Paul Shashy, SR Communications LLC

Robert Schmidt, McLaughlin & Associates

Thaddeus Rupp, Targeted Victory

Theresa Winegar, National Republican

Tommy Knepper, In Field Strategies

Senate Leadership Fund and One Nation

Will Ritter, POOLHOUSE Agency LLC
About the 2023 AAPC Pollie Conference
As the premier industry event, the 2023 Pollie Awards and Conference, held near Palm Springs, California from April 18-20, 2023, brings the leading political professionals together to network and hear from top technology innovators, pollsters, pundits, and service providers. The conference features cutting-edge programming on key industry trends, designed to empower attendees to leverage the latest techniques in campaign strategy and management. The conference is widely recognized as the must-attend event for political consultants, media buyers, public affairs specialists, suppliers, industry leaders, and journalists. For details, visit
www.theaapc.org
.
About AAPC
Founded in 1969, the AAPC is a multi-partisan organization of political and public affairs professionals dedicated to improving democracy. The AAPC has more than 1,600 members hailing from all corners of the globe. The Board of Directors is comprised of 32 members, evenly divided between Republicans and Democrats. It is the largest association of political and public affairs professionals in the world. For more information, see www.theaapc.org.
Ampersand is Moving TV ForwardTM. As the industry's largest source of combined multiscreen TV inventory and viewership insights, we are changing the way TV is bought and measured. Powered by aggregated and authenticated audience data insights from 42 million households, and with a commitment to protecting personal information, Ampersand gives advertisers true audience first planning, scale in execution, and advanced measurement of their TV investments. Ampersand represents 116M households and over 75% of addressable households in the US. Whether a local or national advertiser, we help clients reach their unique target audience and deliver their stories – anytime, anywhere and on whatever device. Ampersand is owned by Comcast Corporation, Charter Communications, Inc. and Cox Communications.
https://theaapc.org/wp-content/uploads/2023/04/Untitled-design-39.png
524
1024
Kelly Zahour
https://theaapc.org/wp-content/uploads/2021/09/Layer-57.png
Kelly Zahour
2023-05-26 13:53:11
2023-05-26 13:53:11
AAPC Announces 2023 Class of 40 Under 40 Award Winners