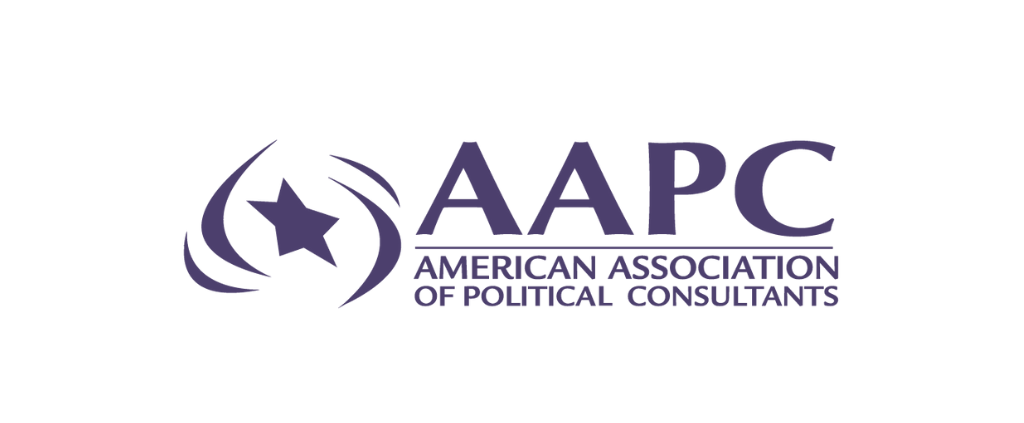 Haley Barbour, Alexander Gage and Mandy Grunwald Receive Lifetime Achievement Award
Contact:
Alana Joyce
Executive Director
703-245-8021
[email protected]
FOR IMMEDIATE RELEASE
May 9, 2022
HALEY BARBOUR, ALEXANDER GAGE AND MANDY GRUNWALD RECEIVE LIFETIME ACHEIVEMENT AWARD
AAPC Announces 2022 Hall of Fame Inductees
Washington, D.C. (May 9, 2022) — The American Association of Political Consultants (AAPC) — America's largest and only bipartisan network of political professionals — announced Haley Barbour, Alexander Gage, and Mandy Grunwald as this year's inductees into the AAPC Hall of Fame. The awards will be presented at a ceremony on Wednesday, May 18, 2022, sponsored by Home Team Sports, Playfly and Political Marketing + Media in conjunction with the annual AAPC Pollie Awards & Conference in San Juan, Puerto Rico.
AAPC annually selects accomplished industry professionals for induction into its Hall of Fame. This is the highest honor that working members of the profession can bestow upon a colleague. The award recognizes honorees' influence on other political consultants and public affairs professionals, the length and seriousness of their careers and their commitment to ethical business practices.
"It's a privilege to honor such innovative and high-achieving individuals and firms in the industry," said AAPC President Becki Donatelli.
"The impact that this year's Hall of Fame inductees have had on the political consulting industry is immeasurable. We are excited to celebrate their achievements in person at the Pollie Conference," added AAPC Vice President Larry Huynh.
"Home Team Sports, Playfly Sports and Political Marketing + Media are thrilled to take part in honoring this year's Hall of Fame inductees," said Stephen Ullman, Managing Partner of Political Marketing + Media. "The impact Alex, Haley and Mandy have had on this industry is outstanding and is well deserving of celebration."
Previous Hall of Fame inductees include Lee Atwater, David Axelrod, Ross Bates, Paul Begala, Charlie Black, James Carville, Alex Castellanos, Joseph Cerrell, Wally Clinton, Roger Craver, Morris S. Dees, Linda DiVall, Thomas Edmonds, Arthur Finkelstein, Joseph Gaylord, David Garth, Bob Goodman, George Gorton, Stanley Greenberg, William Hamilton, Peter D. Hart, Allen Hoffenblum, Gale Kaufman, Donna Lucas, Eddie Mahe, Jr., Ellen Malcolm, Hal Malchow, Jim Margolis, Minyon Moore, Joe Napolitan, Lyn Nofziger, David Plouffe, Matt Reese, Ed Rollins, Karl Rove, Robert Shrum, Lionel Sosa, Stuart Spencer, Bob Squire, Greg Stevens, Ray Strother, Tony Schwartz, V. Lance Tarrance, Jr., Robert Teeter, Nancy Todd, Paul Tully, Richard Viguerie, F. Clifton White and Dick Woodward.
About the 2022 AAPC Hall of Fame Inductees
Haley Barbour
, Founding Partner of BGR Group, returned to BGR in January 2012 after serving two consecutive terms as Governor of Mississippi, including two years as the Chairman of the Republican Governors Association. At BGR, he heads advocacy coalitions, lobbies on behalf of clients and remains a major force in Republican party politics and elections. Gov. Barbour began his political career in 1968, dropping out of college to work on Richard Nixon's presidential campaign; he later served as Political Director of the Reagan White House. From 1993 to 1997, Gov. Barbour served as Chairman of the Republican National Committee. In 2003, he was elected Governor of Mississippi, assuming office in January 2004. After Hurricane Katrina hit the Gulf Coast in 2005, Gov. Barbour received national recognition from the bipartisan American Legislative Exchange Council for his swift response to the worst natural disaster in American history. For his efforts to rebuild the Mississippi Gulf Coast, he received the Thomas Jefferson Freedom Award. The Hill newspaper has listed Gov. Barbour as one of Washington's top lobbyists annually since his return to the firm in 2012.
Alexander Patton Gage
began his professional career in 1974 as a survey research analyst at Market Opinion Research (MOR), where Robert M. Teeter, considered one of the founders of modern political campaign research, tapped Gage to be a part of the 1976 campaign for President Gerald R. Ford. Gage has participated in various capacities in every GOP presidential campaign since then. In 2003, Gage left MOR and founded TargetPoint Consulting, Inc., where he was a pioneer in the emerging field of microtargeting. Today, TargetPoint remains a leader in microtargeting and public opinion research. A constant innovator, Gage left TargetPoint in 2016 to focus his attention on G2 Analytics, a market research firm he co-founded to revolutionize how video content is measured and analyzed. Under his leadership, G2 Analytics has become a leader in political video testing.
Mandy Grunwald
is the founder and president of Grunwald Communications, one of the leading Democratic media firms in the country and the most successful woman-owned media consultancy ever. Mandy is one of the few women at the top of the field, has elected numerous Senators and Governors and is the only woman in history to run the advertising for a successful presidential campaign (Bill Clinton's). Mandy has helped elect six current Senators — Senator Tammy Baldwin, Senator Richard Blumenthal, Senator John Hickenlooper, Senator Amy Klobuchar, Senator Jeanne Shaheen and Senator Elizabeth Warren, and worked on successful independent expenditures for Senators Sherrod Brown, Maggie Hassan, Mark Kelly, Chris Murphy and Jackie Rosen. She is also known for her work for all Hillary Clinton's Senate and Presidential campaigns.
###
About the 2022 AAPC Pollie Conference
As the premier industry event, the 2022 Pollie Awards & Conference is held in San Juan, Puerto Rico from May 17-19, 2022, and brings the leading political professionals in the world together to network and hear from top technology innovators, pollsters, pundits and service providers. The Conference features cutting-edge programming on key industry trends, designed to empower attendees to leverage the latest techniques in campaign strategy and management. The Conference is widely recognized as the must-attend event for political consultants, media buyers, public affairs specialists, suppliers, industry leaders and journalists. For details, visit
www.theaapc.org
.
Founded in 1969, the AAPC is a multi-partisan organization of political and public affairs professionals dedicated to improving democracy. The AAPC has over 1,500 members hailing from all corners of the globe. It is the largest association of political and public affairs professionals in the world. For more information, see
www.theaapc.org
.
About Political Marketing + Media
Founded in 2021, Political Marketing + Media specializes in matching political candidates, committees + advocacy groups with the best local, regional + national sports, news and entertainment programming and events. For more information, see
politicalmarketingandmedia.com
.
https://theaapc.org/wp-content/uploads/2023/04/Untitled-design-39.png
524
1024
Kelly Zahour
https://theaapc.org/wp-content/uploads/2021/09/Layer-57.png
Kelly Zahour
2023-05-26 14:47:31
2023-05-26 14:47:31
Haley Barbour, Alexander Gage and Mandy Grunwald Receive Lifetime Achievement Award