Who is eligible to enter and win a Pollie Award?
All individuals and/or teams at for-profit and non-profit organizations including: sole practitioners, companies, agencies, PR and public affairs companies, associations, government and NGOs, and corporations. Vendors are also eligible to compete on behalf of their client(s).To be eligible for the 2023 competition, work entered must have been produced, aired, or screened between January 1, 2022 and December 31, 2022, with the exception of the Shoulda, Woulda, Coulda Division**. Entrants must be directly responsible for the design, creation and production of their submissions. With the exception of Student Awards, all submissions must be created by professionals on behalf of their clients. Non-professional submissions will not be accepted.
**Shoulda, Woulda, Coulda are classic political advertising pieces from any year, provided it has not previously won a Pollie, or made it to air.
What type of work can I enter?
The Contest is open for submissions in all media—direct mail, television, digital/internet, phones, radio, newspaper, collateral—and all disciplines, including opposition research, field, fundraising.
The 2023 Pollie Awards Contest is divided into four divisions:
Candidate Division

– Work created for a Candidate Campaign

Ballot Initiative Division

– Work created for a Ballot Initiative or a Referendum Campaign

Public Affairs/Issue Advocacy Division

– Work created for a Public Affairs or Issue Advocacy Campaign

Miscellaneous Division – Work created for a Candidate Campaign, a Ballot Initiative or a Referendum Campaign, or a Public Affairs or Issue Advocacy Campaign.
When does the 2023 Pollie Awards Contest open and close?
The contest opens on Tuesday, November 8, 2022 and closes on Tuesday, January 31, 2023 at 5:00PM Pacific.
Why can't I include my company name in my entry?
In order to maintain the integrity and fairness of the Pollie Awards, and to prevent possible bias in judging, you cannot include your name or your company name in your submitted work.
What if my company is also the client for my entry?
If your company is also the client in the entry you are submitting, you may include the client's name as long as you do not indicate that it is the company you work for. AAPC reserves the right to disqualify entries if they violate this rule.
What is the difference between overall categories and regular categories?
The overall categories are meant for a series of work from one campaign, i.e. more than one piece of work. The regular categories are meant for one piece of work per entry.
Can I submit the same entry in multiple categories?
Yes, you may submit the same entry in more than one category. Each entry is charged a separate fee.
How are the entries judged?
The Pollie Contest is judged exclusively online.  Panels of six to eight judges are comprised of political consultants, public affairs practitioners, academics, political analysts, advertising experts, and media personalities who are randomly assigned categories which are judged primarily on the basis of political effectiveness, creativity and production value. Each judge's score is averaged with those from all other judges evaluating the same Pollie entry. All entries receiving awards must reach a set minimum score to be eligible.
Can I sign up to be a judge?
Yes! Judges must be AAPC members and they may not evaluate any categories to which they (or their organization) have submitted work. 
What are the benefits of judging?
Judging the Pollie Awards provides you with the opportunity to give back to the Association as well as view an array of work that will surely inspire your own. To show our appreciation for taking your time to be a part of the 2023 Pollie Awards & Conference, your name and company will be featured in the 2023 Winners Book.
How do I know if I won a Pollie Award?
AAPC will contact you if you are selected as a 2023 Pollie Award winner, but will keep your winning entry and award level confidential until the 2023 Pollie Awards Ceremony.
When are the 2023 Pollie Award winners announced?
The 2023 Pollie Award winners will be announced on April 20, 2023 at the Pollie Awards ceremony. 
What do I receive if I am a winner?
Winners receive a Pollie trophy, a "press kit" including an official winner's seal and press release template and recognition in AAPC's printed Winners Book and more.
What information will be on the trophy?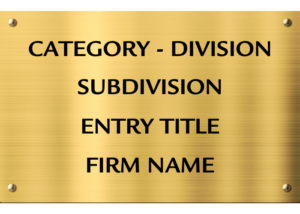 Please refer to the following illustration.