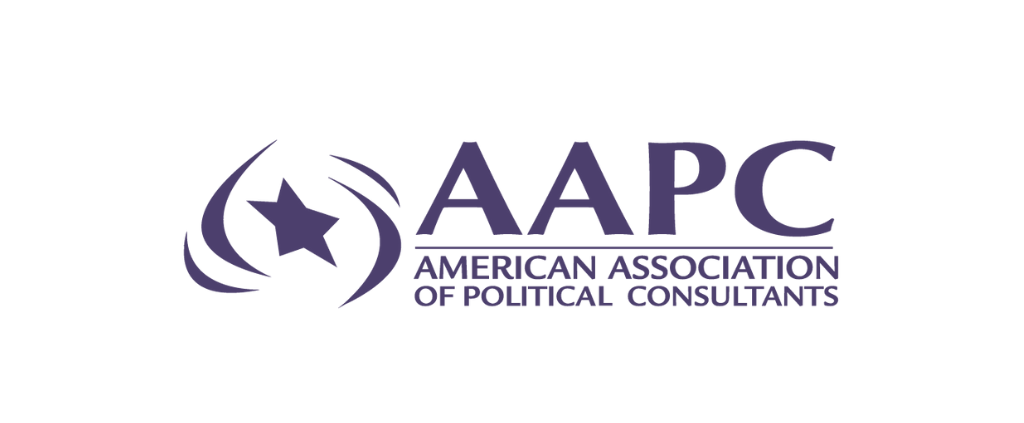 Ross Bates, Linda DiVall, and Luis A. Miranda Jr. Receive Lifetime Achievement Award
Contact:
Alana Joyce
Executive Director
703-245-8021
[email protected]
FOR IMMEDIATE RELEASE
October 20, 2021
ROSS BATES, LINDA DIVALL AND LUIS A. MIRANDA JR. RECEIVE LIFE TIME ACHIEVEMENT AWARD
AAPC Announces Hall of Fame & President's Award Recipients
Las Vegas, NV (October 20, 2021) —The American Association of Political Consultants (AAPC)—America's largest and only bipartisan network of political professionals— announced Ross Bates and Linda DiVall as this year's inductees into the AAPC Hall of Fame. Luis A. Miranda Jr. was also recognized for lifetime achievement with AAPC's first ever President's Award. The Awards were presented at a special ceremony in conjunction with the annual AAPC Pollie Awards & Conference in Las Vegas, NV.
Each year the AAPC selects accomplished industry professionals who have amassed a career of achievements that distinguish them amongst their peers for induction into its Hall of Fame, the highest honor that working members of the profession can bestow upon a colleague. Factors such as the honoree's influence on other political consultants and public affairs professionals, length and depth of career and the body of work, innovation and commitment to ethical business practices are taken into consideration. AAPC's President's Award recognizes lifetime achievement in public service and lasting contributions to the fields of political consulting and issue advocacy. Luis A. Miranda Jr. is the first recipient of this prestigious award.
Previous Hall of Fame inductees include Lee Atwater, David Axelrod, Paul Begala, Charlie Black, James Carville, Alex Castellanos, Joseph Cerrell, Wally Clinton, Roger Craver, Morris S. Dees, Thomas Edmonds, Arthur Finkelstein, Joseph Gaylord, David Garth, Bob Goodman, George Gorton, Stanley Greenberg, William Hamilton, Peter D. Hart, Allen Hoffenblum, Gale Kaufman, Eddie Mahe, Jr., Ellen Malcolm, Hal Malchow, Jim Margolis, Minyon Moore, Joe Napolitan, Lyn Nofziger, David Plouffe, Matt Reese, Ed Rollins, Karl Rove, Robert Shrum, Lionel Sosa, Stuart Spencer, Bob Squire, Greg Stevens, Ray Strother, Tony Schwartz, V. Lance Tarrance, Jr., Robert Teeter, Nancy Todd, Paul Tully, Richard Viguerie, F. Clifton White and Dick Woodward.
"We are very excited to announce and honor true visionaries in the field, Linda and Ross, as our Hall of Fame inductees, and Luis as our inaugural President's Award recipient" said AAPC President Becki Donatelli. "Their accomplishments in the industry set a high bar of achievement for the rest of political consultants to reach for," added AAPC Vice President Larry Huynh.
Ross Bates (1950-2015) was a pioneer in persuasion mail and modern political consulting. His campaign and advocacy consulting firm developed strategy for clients ranging from local to Presidential campaigns and included advocacy work for environmental and health causes. Ross built strong professional relationships and earned a reputation as a talented, fair, humble advocate for Democratic candidates and causes.
As American Viewpoint's founder, Linda DiVall has provided effective strategies to both political and corporate clients for 30 years. Linda has conducted research on behalf of the RGA, NRCC, NRSC, RNC as well as NRSC and NRCC IE efforts. Her strategic insight has been utilized on policy issues of Social Security, Medicare, retirement security and healthcare as well as providing guidance to the GOP on strategies to counter the gender gap. Linda has also worked as consultant and analyst for CBS Election Night coverage since 1988.
Luis A. Miranda Jr. is Founding Partner of The MirRam Group, a government affairs, lobbying and political consulting firm in New York City. He has previously served in three New York City mayoral administrations. Mr. Miranda is the Founding President of the Hispanic Federation and past chairman of the NYC Health and Hospitals Corporation. He is board chair of the Latino Victory Fund and the Northern Manhattan Arts Alliance. He and his family have supported the relief efforts in Puerto Rico following the destruction of Hurricane Maria in September 2017. They have actively fundraised for the Hispanic Federation's UNIDOS for Puerto Rico program, raising over $43M to date for community organizations throughout the island.
###
About the 2021 AAPC Pollie Conference
As the premier industry event, the 2021 AAPC Pollie Conference is held in Las Vegas, Nevada from October 19 – 21, 2021 and bring the leading political professionals in the world together to network and hear from top technology innovators, pollsters, pundits and service providers. The Conference features cutting-edge programming on key industry trends, designed to empower attendees to leverage the latest techniques in campaign strategy and management. The Conference is widely recognized as the must-attend event for political consultants, media buyers, public affairs specialists, suppliers, industry leaders and journalists. For details, visit
www.theaapc.org
.
Founded in 1969, the AAPC is a multi-partisan organization of political and public affairs professionals dedicated to improving democracy. The AAPC has over 1,500 members hailing from all corners of the globe. It is the largest association of political and public affairs professionals in the world. For more information, see
www.theaapc.org
.
https://theaapc.org/wp-content/uploads/2023/04/Untitled-design-39.png
524
1024
Kelly Zahour
https://theaapc.org/wp-content/uploads/2021/09/Layer-57.png
Kelly Zahour
2023-05-26 14:56:29
2023-05-26 14:56:29
Ross Bates, Linda DiVall, and Luis A. Miranda Jr. Receive Lifetime Achievement Award