Support the local community during your time at Pollies 22!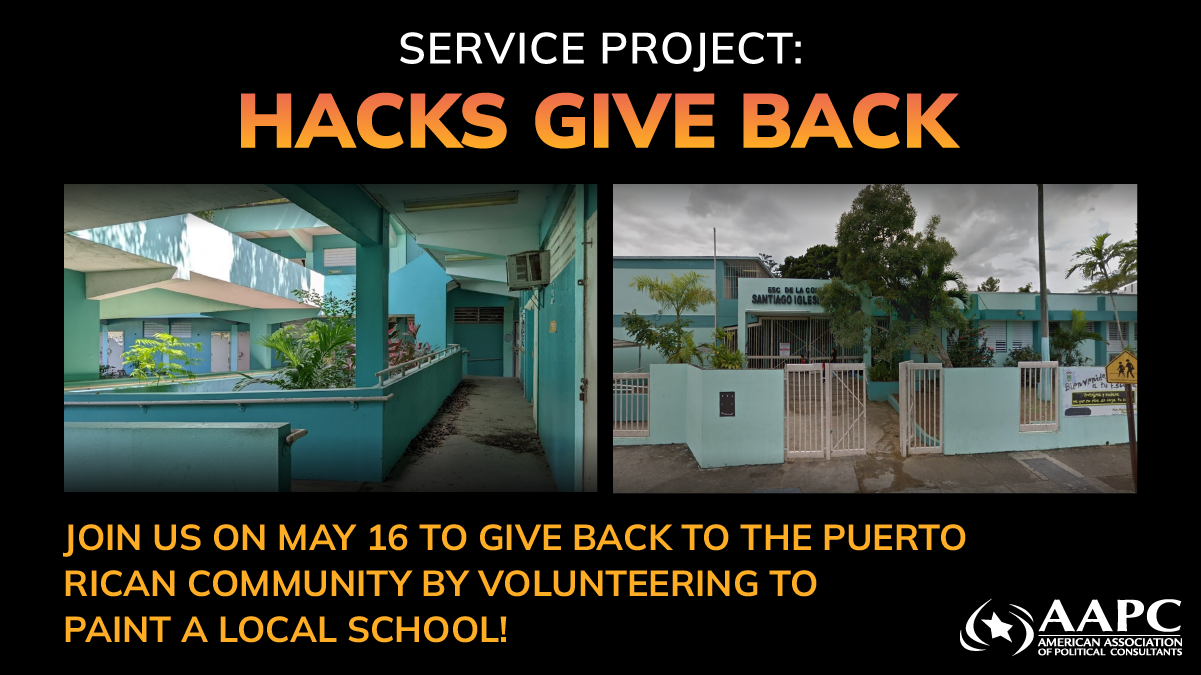 Join AAPC on Monday, May 16th from 12:00-4:00pm for a community impact project in the heart of San Juan serving the Group of the Eight Communities (G-8) in a region referred to as Caño Martín Peña Planning District. 
Participants will be painting classrooms at Escuela Elemental Santiago Iglesias Pantín, a public school located in one of the G-8 communities serving more than 480 students in Pre-Kindergarten through 6th grade.  
What is required to carry out this community impact project?
Participants must be able to paint interior and exterior surfaces of the school (walls, doors, etc…) and work together as a team to complete as much painting during this four-hour opportunity.  Comfortable clothing that you don't mind getting dirty is recommended.  This project can accommodate thirty (30) participants. 
The school is located about 15 minutes away from the Caribe Hilton.  AAPC will provide transportation to and from the school from the Caribe Hilton.  
If you would like to make a donation to support the supplies requires for this project or if you are unable to participate but want to help support this effort, you may make a donation when you register. 
What is the G-8?
A community-based non-profit organization that brings together the eight communities of the Caño Martín Peña Planning District and organizations that believe in the full development of the communities surrounding the Caño Martín Peña and its dredging.
What does the G-8 do?
We facilitate community organization, citizen participation in community development processes and ensure compliance with

Law No. 489 of September 24, 2004

.

We offer direct support to member organizations in their organizational processes.

Also, we impact communities autonomously in response to the needs of residents of our communities, validating human rights such as

health

,

education

,

permanence

, among others. You can read more about our community impacts in our

Raíces del Caño

newspaper .
What about dredging?
The ENLACE del Caño Martín Peña Project Corporation is in charge of ensuring the implementation of the Comprehensive Development Plan (PDI) of the Caño Martín Peña, a plan made by the communities, which guarantees citizen participation. Also, together with the G-8, they will oversee the work of the United States Army Corps of Engineers. However, the dredging of the Caño will be carried out by the United States Army Corps of Engineers, USACE for its acronym in English (US Army Corps of Engineers).